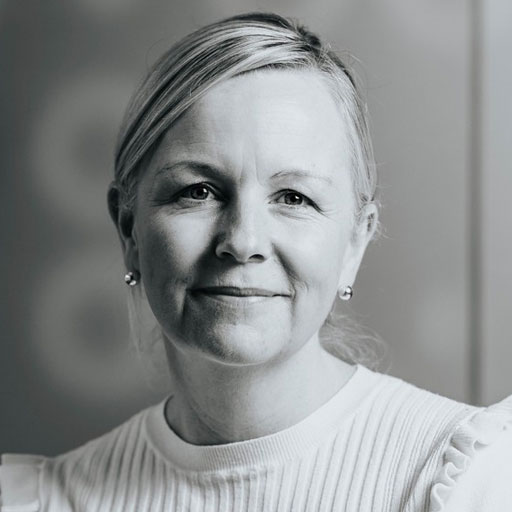 Michele
CEO of Mowlam
Michele joined Mowlam in November 2021 as CEO Designate and was appointed as CEO in April 2022. Prior to joining Mowlam, Michele was Chief Operating Officer for The Blackrock Clinic, Ireland's leading Private Hospital. A highly effective executive-level healthcare professional with over 25 years' experience in the public and private healthcare setting Michele's clinical background, supported by her qualifications in Health Services Management, Business Finance, and Process Improvement (Lean/Six Sigma) enables her to deliver an efficient, cost-effective and patient centred service.
Michele's extensive career started in 1995 when she started as a Nurses Aid in Harold's Cross Hospice and subsequently commenced nurse training in St Vincent's University Hospital. There she remained for 18 years in various roles working her way up to Manager of the Emergency Department and ultimately Group Bed Manager for St Vincent's Hospital Group – incorporating St Vincent's University Hospital (500 beds) St Michael's Hospital (200 beds) and St Vincent's Private Hospital (200 beds). From there, on the basis of a recommendation from the HSE's Special Delivery Unit and given her demonstrated track record in capacity planning, leadership and change management, Michele wasappointed Operations Manager for the Emergency and Speciality Medicine Directorate in the Mater Misericordiae University Hospital, Dublin.
Having only been in this role for 1 year and 3 months, Michele was promoted to Chief Operating Officer of the Mater. In this role Michele was responsible for the management of all clinical and non-clinical services to deliver the highest standards of care for the 60,000 emergency patients, 22,000 inpatient admissions, 58,000 day-case procedures and 225,000 outpatients annually. Michele remained in this role until 2017 when she moved to The Blackrock Clinic as Chief Operations Officer.
In her time in Blackrock Clinic Michele was responsible for the management of all clinical and non- clinical services with full oversight and accountability for the 40,000 inpatient/day cases, 75,000 diagnostic procedures and 10,000 emergency attendances each year. A key achievement in this role was leading on the Hospital's response to COVID 19 with responsibility for staff safety, patient safety and business continuity but in particular partnering with the HSE to ensure capacity and effective pathways for time critical surgeries and interventions throughout the pandemic. Throughout this time, Michele achieved, and surpassed financial objectives as set out annually by the hospital's board and led her team through the change in ownership. She left Blackrock in November 2021 to join Mowlam Healthcare Mowlam Healthcare is the largest Irish owned Nursing Home Group who currently operate 28 Nursing homes nationwide, with a further 5 new homes under development. Mowlam offer long term care and post-acute services and expertise at all levels of care across the continuum of care. Michele's background and experience compliment Mowlam Healthcare's ambition to grow in size both through acquisitions but also through diversifying the services being delivered and aligning to the various national clinical programs and strategies for care delivery.
Qualifications:
In 2008 Michele received a Masters Degree in Health Services Management in Trinity College Dublin, and subsequently studied Quality and leadership in the Royal College of Surgeons (2012), Lean Methodologies/Six Sigma in UCD/Mater Lean Academy (2014) and Business Finance (UCD) in 2018.
Of note, having nursing as a core background has equipped Michele to work effectively with support staff, nursing staff and clinicians to ensure she keeps patient care at the heart of everything she does.